Norwegian Mountains, Møre og Romsdal
Sukkertoppen, 314m
Skjonghellaren, Kvitesanden, Alnes Fyr,
Ålesund Aquarium
Ålesund sightseeing, June 27-28 2008
---
To the main Sukkertoppen page.
I had special visitors ..
on this Friday. My friend Even and his children Jonatan (16), Marie (14) and Sofie (10) was exploring western Norway and stopped by Ålesund to see my home turf. I am Jonatan's Godfather, and I've been with these kids on the 23rd of December ever since they were born. In other words, almost family. They had been visiting Geiranger, stayed at Grotli and Union Hotel Øye. Trollstigen was on the agenda upon their return to eastern Norway. But now they were in Ålesund, and I would be the local guide. Friday's theme was the outdoors, and the first stop would be Sukkertoppen.
Even rocks
(Click for larger image)
June 27 2008
Sukkertoppen, Trollråsa and Trollsvaet
We headed up to Sukkertoppen on the normal route. A lot of tourists were of course on the trail. But being on top of Sukkertoppen doesn't necessarily make a lifelong impression. But Trollråsa does (I hope). Even's first impression of the west ridge was that this was perhaps something we should skip. But skipping Trollråsa was simply out of the question. Sofie was however happy to sit down and wait for us, on top of the steep route.
Marie impressed me hugely by having a very graceful way of scrambling. While Even and Jonatan declined to climb the wall I have in the backyard, Marie got up easily, and with grace. I told them the story behind Trollråsa and Jonatan wondered why on earth I decided to scramble my way down this mountainside. Curiousity, of course. Cat blood..
Down by the Trollråsa mailbox, I took the opportunity to climb Trollsvaet - the latest route I've "discovered". Trollsvaet is on the very border of what I'm willing to do without a rope, but it's just good fun. Very good fun. Although my climb didn't seem to impress anyone. The thanks I get..
Trollsvaet
(Click for larger image)
Kvitesanden, Giske
We headed back up to Sukkertoppen and descended the way we came. After dinner, the kids wanted to go swimming. I had pointed out Kvitesanden from Sukkertoppen, and they were looking forward to a swim in the ocean. Well, all of this was just bragging, because once we got there, none of them felt an immediate urge to head into the c o l d water.
Being the guide, I had to step up and be the leading example. I can't even remember the last time I took a swim in the ocean, but have a strong feeling it was on Hawaii in 1998. Next to the warning sign where you see a shark and a person flying high up in the air. Of course, we didn't see this sign until we were done with our swim..
But we had a good time on Kvitesanden. Marie decided to take a walk in the water, and then came Arnt - the human bomb. And Marie got her swim. Then we went on with a long jump contest. Long jumps are now on my never-to-do-again list. I pulled a muscle and realised I was way too old for this type of amusement. But it was good fun, though.
Long jumps on Kvitesanden
(Click for larger image)
Alnes Fyr, Godøya
Skjonghellaren, Valderøya
After having visited Kvitesanden, we drove to Alnes Fyr. The Lighthouse was closed, so we didn't stay long. Even seemed to like Alnes a lot. The kids were curious about the Johan Skytt rock, but they would have to settle for pictures. We then drove to Skjonghellaren on Valderøya. The enjoyed the cave too, and I concluded that my guiding job had been a good one. Everyone was happy, but tired.
Ålesund Aquarium, June 28 2008
The next day, we visited Ålesund Aquarium before they headed back towards eastern Norway. Below, you will find lots of pictures from the aquarium.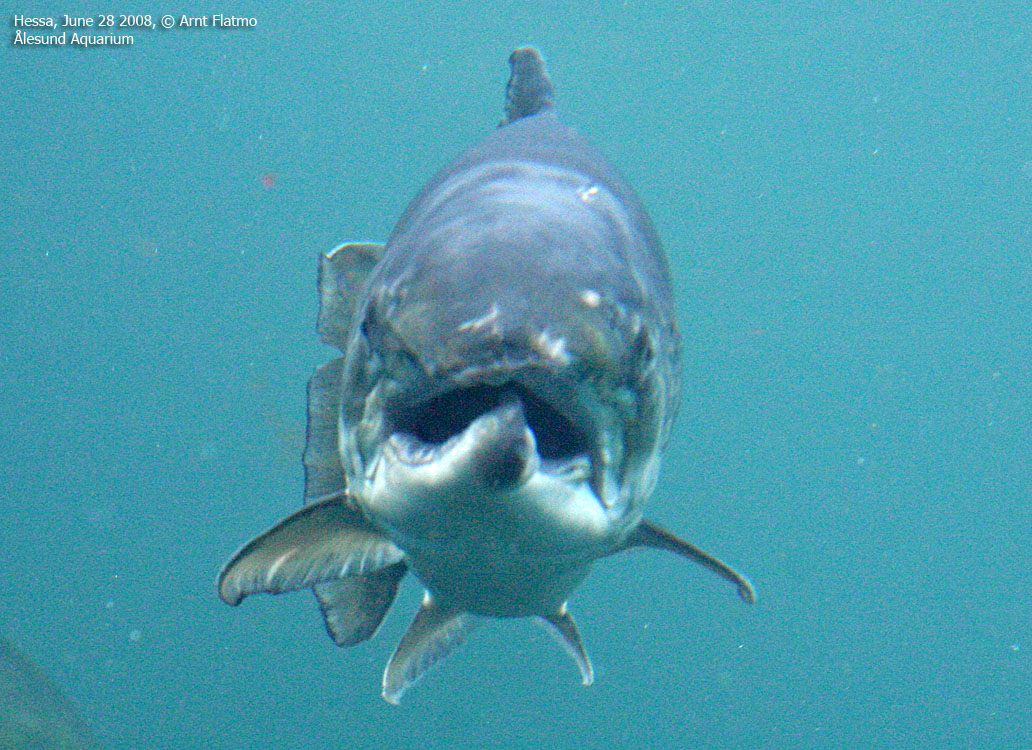 Scary fella
(Click for larger image)